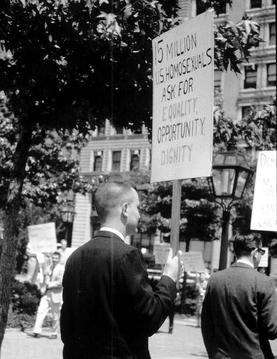 Queer history began long before June of 1969. The following are a short list of some of the major moments and events that paved the way for the events at Stonewall and the advances in queer rights over the past fifty years.
Read:
Stacker - LGBTQ History Before Stonewall
A slideshow featuring a chronological timeline of LGBTQ+ history leading up to them, beginning with prehistoric events and ending in the late 1960s, just before the events in Lower Manhattan.
NBC News - 'Homophiles': The LGBTQ Rights Movement began long before Stonewall
"Stonewall was not the start of the LGBTQ civil rights movement," historian Eric Marcus said of the 1969 uprising. "It was a key turning point."
PBS - 400 Years of Gay and Lesbian History in America
Interactive timeline documenting 400 years of LGBTS+ history in the United States.
Watch:
Them - 6 Major Moments in Queer History BEYOND the Stonewall Riots 
Watch Pose's Billy Porter give us a rundown on important political movements that have changed the course of LGBTQ+ history.
Listen:
Making Gay History Podcast - Stonewall 50: Prelude to a Riot
In "Prelude to a Riot", speakers share multiple voices to set the stage for that now iconic night on Christopher Street in Greenwich Village when LGBTQ people said "Enough!"