"That was no riot; everybody says it was a riot. It was a disobedience, and then they started fighting back; it was a rebellion. And once they got the hang of it, then they rebelled quite well" — Stormé, 2001
Stormé DeLarverie was a drag king and butch lesbian born in 1920 to a white father and a black mother. She began touring as a singer with jazz bands in 1939, and in 1955, she became the MC and only drag king in the Jewel Box Review, "a traveling musical show of gender deception". The group performed for desegregated audiences, including families and fans both queer and straight, around the country while her girlfriend, Diana, watched. 
Though there is debate as to whether or not she was the "cross-dressing lesbian" who witnesses claim threw the first punch at Stonewall, there is no doubt as to her presence that night. In her own words, she "just walked up… to see if anybody needed help". Following the event and the death of her girlfriend in 1970, she left entertaining and became a bodyguard and bouncer who referred to herself as "babysitter of my people, all the boys and girls" at several lesbian bars around New York City.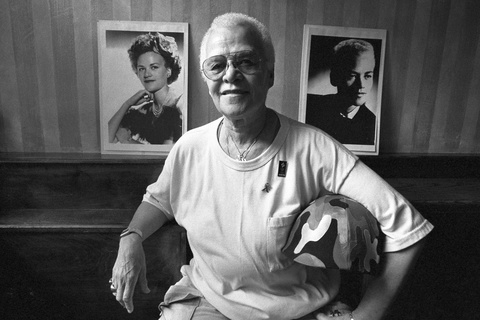 In 1990, she became a security guard at the Henrietta Hudson, a lesbian bar in Manhattan. She worked there until 2005, when she was 85. According to the bar's owner and Deliverie's longtime friend, "she literally walked the streets of downtown Manhattan like a gay superhero". She also served on the Stonewall Veterans' Association, became a fixture at New York's gay pride parade, and continued to give charity concerts until her death in 2014.
Sources:
Drag Herstory: A Drag King's Journey From Cabaret Legend to Iconic Activist
Stormy DeLarverie, Early Leader in the Gay Rights Movement, Dies at 93